Cut the Rope: Experiments FREE
1.9.0
Adventure Game – Can You Feed Candy to Om Nom?
Do you like solving problems? If yes, then this adventure game will challenge you a lot. Cut the Rope: Experiments FREE is a fun game in which you have to find a way to feed the candy to Om Nom while collecting gold stars. Om Nom is a creature that is always hungry. He likes candies and will want you to feed him at all times. Your job is to work with the professor and try to find ways to deliver the candies to Om Nom. You will have various items provided to you that will help in delivering the candies to the creature's mouth. The candies will be tied to various ropes and you need to cut them to free the candy.
Cut the Rope: Experiments FREE has engrossing gameplay that keeps you hooked from the minute you start playing this adventure game. The graphics and animations are very beautiful and make this game more enjoyable to play. You will find Om Nom to be very cute. He will have his mouth open every time the candy is near to him. The controls of this game are very easy to master. You just need to swipe your finger on the screen where the rope is to cut it. However, you need to make sure that the rope is cut at the right length and time. If the rope is cut at a wrong time or length, the candy might not land where you intend it to.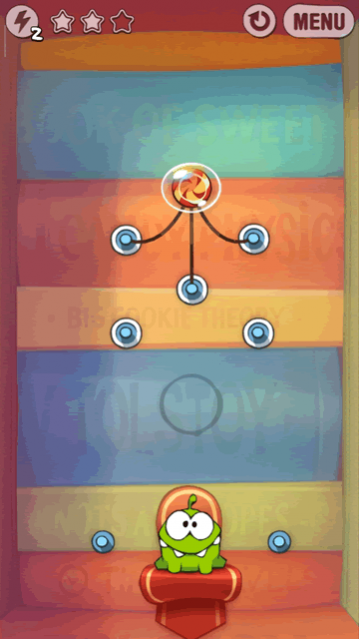 This adventure game offers various challenging levels to you. These levels are contained in packs. You have to complete the level to move further in the game. Each level is unique and presents you with a different problem. You have to solve the problem and ensure that the candy is delivered to Om Nom. However, simply getting the candy to Om Nom is not the goal. You need to collect all the golden stars scattered at different positions on the screen too. This would be the tricky part as sometimes these stars won't line up with the candy. You will have to use the objects provided to you to complete this task. Playing each level will cost you a single candy and so will repeating the level.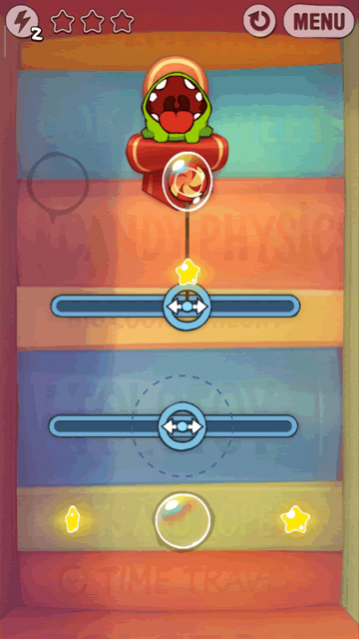 Cut the Rope: Experiments FREE uses candies as a means of money. You can earn candies in multiple ways. For instance, you get candies for clearing levels. Also, candies are awarded for clearing a certain number of levels too. You can buy the candies for real money in the shop. There are video advertisements available too that give you candies if you watch them to the end. In this adventure game, you are offered superpowers for clearing the difficult levels. These superpowers belong to Om Nom and you can use them to your advantage. However, to use these superpowers, you need energy. You can get this energy from some levels and also from the shop in exchange for real money.
Features:
Lots of challenging levels to complete
Multiple packs available containing various levels
Feed the candy to Om Nom
Collect the gold stars scattered in each level
Cut the rope to free the candy
Complete your goal using various objects
Superpowers to help clear difficult levels
Watch cartoons of Om Nom on YouTube channel
Conclusion:
Cut the Rope: Experiments FREE is a gaming app that is ideal for people who love physics-based games that involve a lot of problem-solving. It presents you with unique challenges and asks you to find a solution using the different items provided to you. It is an excellent adventure game and can prove to be a good exercise for your brain.
---
Add a review
Tell us your experience with
Cut the Rope: Experiments FREE
1.9.0
RELATED PROGRAMS
Our Recommendations
---
---
---
---